WELCOME TO COMMUNITY THRIFT STORE
DUNDEE, IL
Thousands of items arrive to our sales floor on a daily basis including

new...nearly new...antique...vintage...designer...collectible items

Our sales floor changes daily with exciting arrivals to decorate every nook and cranny of your home, make your life easier, or create a brand new look for you and your family.

Because of our aggressive daily sales ranging from 25% to 50% off, we are able to
continually keep our sales floor stocked with new merchandise at extremely low,
competitive prices.

You can get rid of that pesky plastic loyalty card with our new phone number-based
loyalty system! Just give us your phone number at check out and we will use that to track your points! When you get enough points, you can redeem them with your purchase! Best of all, if you give us a mobile phone, we will text you with information about your points and let you know when you have a reward to redeem. In addition, you can manage your account on line and see your transaction history and associated
points…after you accumulate 100 points you will receive $10 off your next purchase. Come in today and SAVE at Community Thrift Store.
Check Us Out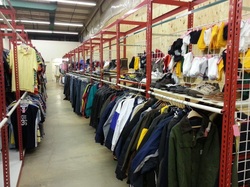 Go to our
Featured Items
page to see what special items we have discovered for you.
Check out our
Departments
page to see all of our departments
and how easy it is to find what you are looking for.
Our
Specials
page gives you the days we have
discounts for your best days to shop.
The
Visit
page will give you our times and days as well as a map to our location.
---